I come out of the house in the morning and approach my car. I take a quick look to make sure the tires are full of air. Check the oil and transmission fluid. Make sure there's enough gas in the car, with gas to spare should I break-down somewhere or a strike prevents future random fill-ups. I let the engine warm up for a short time before moving.
I lock my doors. Buckle myself into my seat-belt. Check my rear-view mirrors and shoulder-check before I start backing out of my parking-space, testing my brakes as I go to make sure they're working fine. I continue to do this as I back-up past the neighbor's driveway and out the gate onto our side-road. All these are routine by now, after 30 years of driving, procedural. They're not paranoia-inducing, they're just soft-wired at this point. Via minimal training and a whole ton of experience. Daily procedures I do that exponentially increase my chances of not having an incident.
When I get out the gate, I look both ways for dual-lane traffic moving in opposite directions before I move onto the street, utilizing my signal-lights and giving as much congruent body-language I'm able to let the other cars know my plans in-advance so they can either continue unabated or adapt if necessary. (Most, too, have learned to read the tells of others both from their eyes, rear-view mirrors, head-and-hand movement, or vehicle micro-movements, I'm not at all unique in this)
While in-traffic, I'm experienced-enough to split my attention (remember, attention can be split, focus not so much) on numerous things that may come to my attention: erratic drivers, sudden lane-changes, accidents and police-stops up-ahead, movement-blockages, heated moments between other motorists that may develop, body language of other drivers beside/in front-of/behind me, etc. etc. If there's nothing of-note, I continue on my leisurely way. If it's something that might be of-note, I pay greater attention to it as it unfolds to see if it's important or plan-altering. Many times it turns into nothing, in fact, the majority of times considering how many times we do this when leaving the house in a vehicle and how often we're out-and-about. So, I carry on my way.
Note that I'm never in paranoia-mode or unnecessarily-stressful (breathe…what better place to find your rhythm and put theory into practice?), and this is generally ranked as one of the worst places to drive in the world. There's minimal driving-culture, no driver's education, law-enforcement who are lackadaisical (at best) in enforcing traffic violations, and a passive-aggressive culture that often takes their aggression out on the roadways. This IS the #1 threat to my personal safety in this country, if I'm being honest – driving. Road rage, reckless and inexperienced driving, suddenly changing conditions (heavy rain, for instance), the majority of criminal tactics are with moving vehicles, motorcycle-robberies, heavy traffic-jams, sudden strikes, accidents. #1 by far….and driving is not optional for me.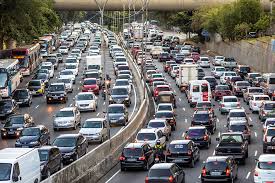 On top of that, I take the safety elements that I CAN control into my own hands. I make sure to at least try to be a good citizen and obey traffic laws and road-signs. I signal when I'm turning. I drive defensively. I limit my reactions and interactions to other perturbed drivers. I try very hard not to cut people off. I don't tailgate. I pay attention to pedestrian-crossings and stop if need-be. I brake for uncontrolled train-crossings. I try sincerely to slow-down when a light turns amber if I'm not already part-way through it. In a nutshell….I stay in my lane. (a phrase to remember) It's also worth noting that, after that 30 years of experience, I have a pretty clear idea of what pratfalls to look for, don't waste my time on tons of things that aren't worthy of my attention, and the vast majority of this is running "in-the-background"…like an anti-virus software on my PC.
When something occurs, it's not that it's instinctual or unconscious…it's that my perceptual filters have seen and been involved in such an array of diverse obstacles, dangers, risks, threats, and safety-concerns on the road that I'm analyzing, processing, orienting, deciding, and acting far quicker than someone with a fraction of that/those experience/experiences. (whether before or during a potential incident) Time-lag – when things seem to happen in slow-motion, so the more ahead of the event you see, the more reaction-time you have, the greater the chance of avoidance or evasion. Experience, exposure, environment, and others dictate this ability to perceive things happening slower than they are. It is intuitive (from that experience/those experiences) – not instinctive (hard-wired, evolutionary)…a differentiation often confused by so many. It's quite amazing….the volume of options we're presented with – turning, swerving, braking, accelerating, reversing…yet we do all this within fractions of a second and with inches to spare. Effectively. Sufficiently. Daily.
I can even, at times, actually divert a small part of my attention to other things like talking with my passengers, listening to music, noticing passing things and people, seeing places I'd like to eat, playing mental games with my son, counting dogs or birds we pass on the way to school, or briefly thinking on things I need to get done during my day. Translation – enjoy my time on the road.
How many elements mentioned above to you think could be transferred to personal preservation – whether literally or metaphorically? I bet more than a few….look it over again.