a) Instructors vehemently protect their place in the pecking order. The old boys' club desperately clings to their own make-believe and niche-importance and narcissism as it declines over time. If failing, they join forces with other waning egomaniacs to strain the last bit of juice from the relevance fruit, trying relentlessly to keep a blind following around the globe to keep their memory/legacy/importance/power(bullshit) alive.
b) Many top instructors sell-out entirely to gain global student bases. They claim science, human physiology, medical anatomy, psychology, anthropology, sociology and a host of other sources to back their new gimmick-for-relevance avenue. Note that none of these sources directly and universally support their theories – it's a cherry-picking endeavor to build uniqueness and stand out from their peers, which they're clearly incapable of doing without said gimmick. Some were legitimate and authentic at one point but that's long ceased to exist as many have become a caricature of that former credibility. Many rest on those laurels and utilize them to try and push new, unproven, wild, unbacked claims. ("Well, it's Snapswitch Humankiller and he did that thing in the past, so this has to be legit….doesn't it?!")
c) To protect their diminishing castle of sand, many name instructors will subtly try and discredit others online and issue fraudulent challenges to others – of course with a number of intricate stipulations. Those stipulations are made to ensure no conflict will take place, that the other loses face in front of important peers, and reputation is protected without ever having to prove a thing. Social media safespace-challenges, as it were. No risk, all the reward, all odds tipped in the favor of the aging, relevant-fading "grandmaster". ("If you don't travel to central small-town Malaysia where I live by this Thursday at 4:36 am ending at 4:53, alone, while I bring witnesses, you're a coward and fraud" et al)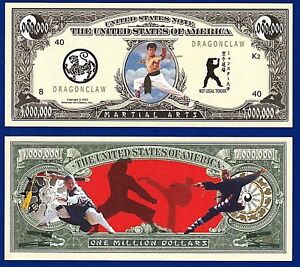 d) Many self-identify with their often made-up or questionably-given martial title on social media for status-enhancement. You'll see them utilize soke or sensei or shihan or guro or punong guro or datu or grandmaster or master or supreme grandmaster or, or, or, or. Either way, these titles, which have zero importance in the really-real world and give zero credibility in daily life, are used to imaginatively pad ego and build cred among online peers and maintain pecking-line superiority over students.
e) Most often the real top professionals in this field fly under the radar and go about their business quietly and uncompromisingly. They're reviled by the status quo because of their authenticity, experience, and grounded approach and have minimal opportunity to do this full-time. Inevitably, it's an endeavor of love, passion, and a will to make change in the small number of lives they can affect. Professionals that take pride in and cultivate their craft are 1 of the 2 "professionals" we see in the industry. The other is the one who sells out entirely, often teaching material that, should their clientele ever need it (and most won't, thankfully), it will get them killed. They're the epitome of the industry person who just collects a paycheque….it's not a vocation, it's a business.
f) I have become friends with some name-value top professionals over the years and the fact that they, though rare, still stick to the same foundation that brought them to their legitimate impact, is hopeful. There ARE some top industry-pros who haven't changed – but they're rare and one has to sift through a lot of shit to find them or they get mixed in with the copycats and cookie-cutters, making it excessively difficult for the average person to distinguish who's "real" and who's not.
g) There are a lot (LOT) of unhealthy, unstable people in this industry. Daily I see talk on stabbing other human beings, shooting people for infractions that barely justify a verbal response, a will to finally get a chance to use their vaunted martial skills on some offending person that cuts them off in traffic. Sheepdog/sheep analogies, a wont to die in Valhalla, claims of knife-fighters, murder videos, ridiculous statements of "better-to-be-judged-by-12-than-carried-by-6", etc….all propagated by those who've made a ton of money in the industry with these catchphrases. You need to ask yourself, do you want to be taught about personal safety by someone who either can't avoid or can't wait to participate in violence and doesn't have a proper gauge or context as to how it works and why?
h) Seeing what so many instructors and industry leaders claim and state online, I, more than ever, believe the majority of people will be just fine on their own, without training. (*unless training with the above-mentioned quiet pros) People truly survive violence the world over with not one iota of training, but with innate survival skills. Many don't. But the proof of martial arts and self-defense classes and combatives being some huge decider, outside of self-confidence-building, violence avoidance, physical fitness, and vigilance, is not far off from being moot. Stories of martial prowess fending off a committed violent attack are, even in the age of social media and perpetual video, rare…extremely rare, yet we jump on those minority like they're a message from God legitimizing 25 years of training like an animal for a war that doesn't exist for the majority of us. As we also see in most news stories where martial-arts training is mentioned, it's anecdotal at best with no proof that that prior training had any impact on the final-outcome, or minutely compared to their own survival instinct and evolution.
i) There are a lot of system/method re-creation coming up lately. La canne, esgrima criolla, HEMA, glima, bataireacht, and a host of others, which is great and fresh. One can only hope they 'never' get as big as modern eastern-Asian traditional martial arts and develop the superiority-complex, self-importance, and entitlement that TMA currently has. To me, the fact there's exploration, research, ongoing study, debate, and interpretation is a breath of fresh air compared to the staid, finite, status quo in TMA, where explorers and adventurists are chastised as blasphemers and discarded from the style/system/art inner-circle.
j) Martial arts has some supremely positive benefits to the average person….movement (that exercise component has been proven by science to put-off illness and counter depression), improved cognition (as we get older, ultra-important), physical condition (which is far more important to fight survival than technique anyway), social interaction (communication is a huge tool in personal-safety), self-confidence (a great tool for avoiding conflict in the first place). Yet what I often see is most of these actual and direct benefits being replaced by exorbitant and unsubstantiated claims, relying almost totally on the physical-response benefits, which are generally and for most, such a minute possibility in the daily scheme compared to the others. Bass-ackwards.
k) The crab-bucket mentality. We hear this phrase when talking about certain cultures a lot. When someone works hard to get out the a situation of limited-hope, low-class, or low-potential, those left behind resort to dragging that person back, sabotaging them, trashing them behind their back to others….generally trying to prevent their success to put them back in "their place" instead of supporting their efforts and being proud of their success. This is huge in the TMA/SD world, often even within the same organization, same style, same system, same method. Surpassing your instructor, flying on your own, doing something ingenuous or creative, developing something fresh….is often looked at in a negative light and with disdain.